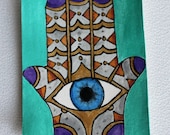 ACEO Original painting by Tina Lynn Ellis. Depicted is the protective symbol known as a Hamsa, or Eye of Fatima. This is watercolor and ink on acid free watercolor paper and highlighted with metallic acrylic. The painting will be sprayed with a matte protective finish.
Standing for Art Cards Editions and Original, and measuring 2.5 x 3.5 inches; ACEO's are highly collectable and affordable tiny pie...
Click Here to Visit My Etsy Shop!