I hope everyone had a wonderful thanksgiving yesterday. We decided to pick the winner of the Littlest Mermaid pendant right after dinner.
All the names in the hat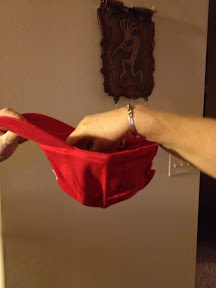 Mom chooses a name while Cyd holds the hat
And the winner is!
Congratulations to Brenda, I've sent you an email :). I want to thank everyone for entering and helping to share the word. I look forward to doing this again soon. The holiday season feels like a great time for giveaways, so stay tuned here, Facebook and twitter for news!